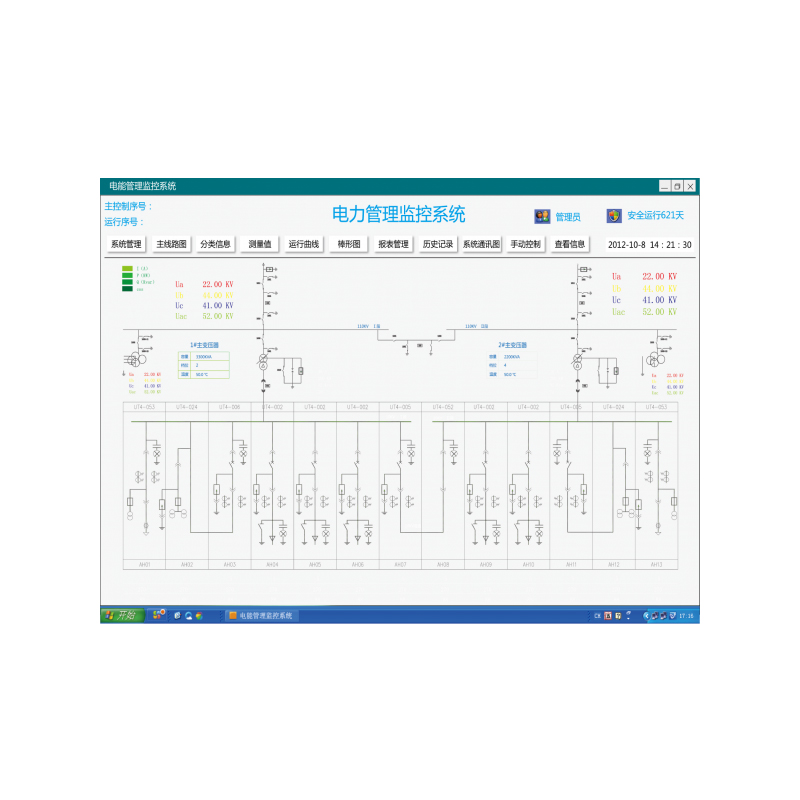 Model: PMS2.0 Power monitoring ststem
System has HMI with intuitive and individuation and multilevel display,so user can know the system operational state from different angles.
High-reliable net management,high-speed repeated collection and remote control.
Support various mode field bus,such as RS485,industrial ethernet,profibus,CAN,ect.
Supply rich data analysis,graphical display convenient to trend analysis,record printing and diagnose process.
System has redundant control design and control mode in distributed multi-station,which improve the system scale and operational reliable.
System software has a good extensibility,and can communicate with the third party systems and equipment through various input quikly to help user build a open & interconnected network system.

Model Specification
Technical Parameter
Download
Classic Cases
System manager:
System manger is the top of system,which is composed of system software platform,industrial computer,UPS power,printer and hardware.
It connect with locale control layer through network communication that it will achieve parameter configuration,data collection,state
control and analysis,operation optimization control and release of HCI and system information.So the system manager achieve control of
total system,network connection and data management.
TOKY-PMS2.0 system manager software has an individual combination mode,multistage siwtch interface make user know about the
system operation. As you know,this software have an abilities of high-speed data collection and storage,and support display of various
imaging,trend analysis and reporting tools,ect.
Network Comminication:
Network comminication is composed of various communication equipment and communication medium,which achieve information
exchange between system management and field control equipment.Network normally adopt industrial ethernet,optical fiber ring network and RS485 bus structure.So the network communication consist of ethernet switch,fiber optic transceiver and cable,communication canle,etc.It will be dealt of different communication procotol such as ethernet,standard RS232,RS485/RS455 and ect which are supplied by the power measure,protection and control equipment,so that have multifunction of communication management,data gateway,data forwarding and procotol switch,etc. Field Control layer:
Base on the measure,control and protection equipment of field control,it main use in intelligent power controller,motor protection,
microprocessor protection and power quality improvement,event more,various intelligent display meter,intelligent power meter,ZBWKC
and professional power system AIO.Our electrical engineer will design the best feilde control solution for you,and they will show all the
functions,example,measure,data collection,communication and control,etc.
Power System monitor & Control:
It is monitoring computer management,to dynamically display each monitoring running data of the whole power monitoring system by
a rich and intuitive way.And the remote control functions of it can be provided to remote control the site working status and modify the site device parameters conveniently.
Energy Quality Monitoring Analysis:
It can monitor power quality of power system in time,for example,harmonic content,power factor and etc,which convenient to analyze and deal.
Statistical Analysis of Energy Efficiency:
It is used for multi-function power meter and energy meter with high accuracy,and can exactly measure system load,analyze energy
efficiency,save control and distribute load,even more,make various imaging to print and check.
Alarm & event management:
User can set ultralimit alarm function according to each measured parameter,or programe different action,ect.When the system alarm,it can automatically pop up alarm information and perform matching processor,and meanwhile,it can inform the people with alarm information through E-mail,telephone-message and IM software.
Management of Historic Data
System finish storage and management of historic data base on MYSOL database or SQL-SERVER database.All the real-time and
collected data of parameter,schedule and etc can be user-defined through query function,and made historic graph,column-diagram,pie chart,etc.
Statement Management
It can produce various statement with system statement template or user-defined statement.The statement can export as SML,EXCEL,etc format,and automatically send or print through E-mail or HTML format.
User Management
It can define different level user and respectively give different operating authorization,to supply a safety for system operation and
maintenance.
Data Access
Client can visit the system monitor menu with B/S mode through browser.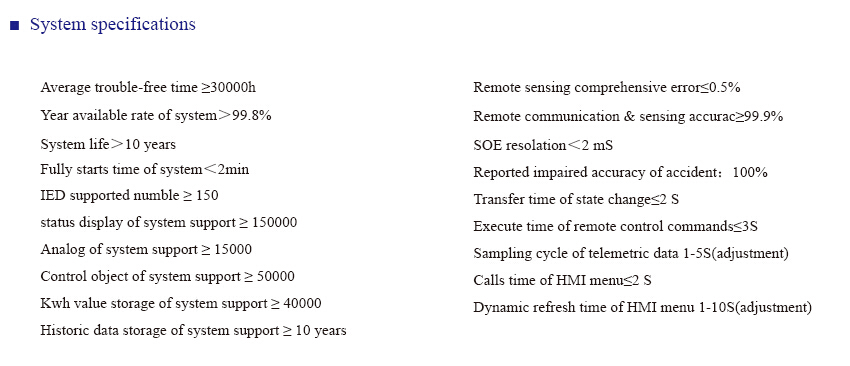 ​